Frequently Asked Questions
We've provided all the answers to the most frequently asked questions we get. Please review these FAQs before contacting us, as there is a good chance your question is addressed here.
For Consumers
What is an mCard?
---
An mCard is a digitally provisioned card that lives in your Apple or Google Play wallet connected to our mCards app. An mCard allows you to unlock unmatched value through offers, discounts, rewards, among more. Check out what's available in our Marketplace.
---
What is the Marketplace?
---
Our Marketplace is home to a suite of Feature Tiles that provide your digital mCard with enhanced value when using it to transact such as the ability to unlock offers, discounts, rewards, credit, various currencies, etc. These Feature Tiles are made possible by our partners to help support one of the most dynamic and powerful payment cards aimed at providing our cardholders unmatched value.
---
How do I add Feature Tiles?
---
Once you've downloaded the mCards app, authenticated your mobile number (see "How do I authenticate my mobile number?"), and added your card to your wallet (see "How do I add my mCard to my digital wallet?") you can access the Marketplace. Simply tap "+Add" to add these to your mCard - some are free, others require a subscription.
---
How do I authenticate my mobile number?
---
Once you have completed your purchase - or are gifted an mCard - you will receive an SMS containing a link to activate by first taking you to the Apple Store or Google Play Store to download our app. You are then required to authenticate your profile via your mobile number by following the prompts - this will provide you access to the app.
---
How do I add my mCard to my digital wallet?
---
To add your mCard to your device's mobile wallet, click on the "Add Card to Wallet" button from the Features tab. You will then be presented with prompts from Apple or Google to add the card to your mobile wallet. Once added you simply tap your card on the merchant's terminal to make your purchase as you typically would with any other credit or debit card.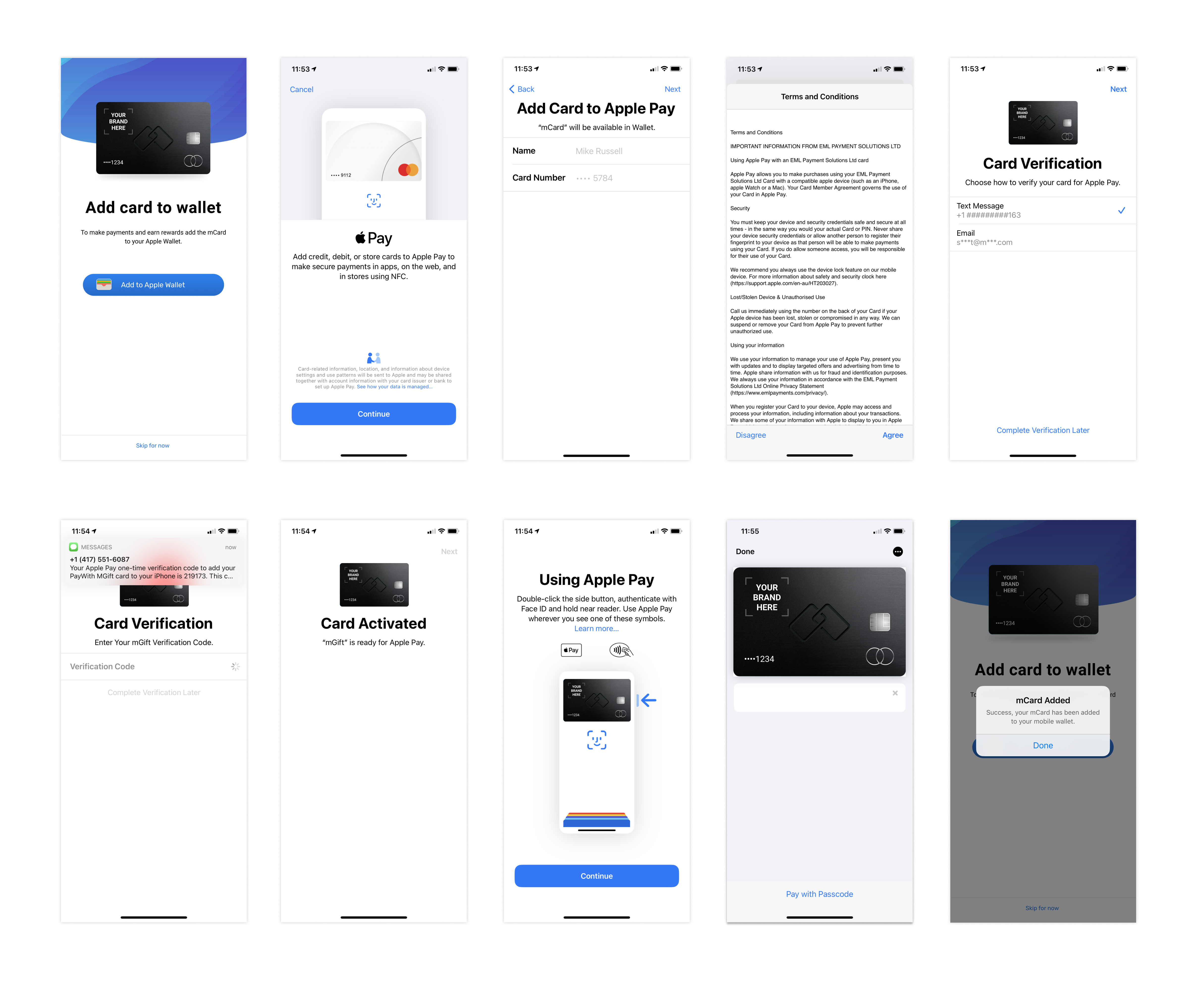 ---
Why do you ask for my mobile number?
---
We ask for your mobile number to authenticate your account. This is also how you sign-in in the future.
---
How do I add another funding source to my mCard?
---
To add a funding source(s) also known as an Account to your mCard, navigate to the Wallet tab. It's here you're able to "+Add" a funding source for quick access to your card by following the prompts.
---
Why would I want to add a funding source (Account)?
---
These Accounts can be used for a number of reasons to enhance your experience: • To purchase or unlock discounts • To fund transactions to earn rewards or points • To send gifts in the form of mCash, points, and other currencies • Additional functionality is continuing to being added to our Marketplace
---
How can I see the history of transactions?
---
You can see your transaction and offer redemption history within the History tab. Once here, you can see the merchant name of the offer you redeemed including the offer type, and date. In addition you are able to click into the listing for additional information such as the offer description.
---
Where can I use my mCard?
---
You can use your mCard to fund your purchase at any merchant in Australia that accepts MasterCard. Check the app for participating merchants providing additional value like discounts off the bill or rewards.
---
How can I request a refund?
---
Refunds are only provided in very specific cases, please refer to the contact us page where you can submit the details of your request.
---
---